One hundred and fifty minutes a week. That's the minimum recommended amount of moderate-intensity exercise that the federal government advises the American people to do to optimize their health.
One hundred and fifty minutes a week. That number wasn't pulled out of thin air. There is a bunch of observational data that shows that people who are more physically active have better health outcomes. Those who hit that 150 minutes–a-week mark have around a 30% reduction in overall mortality rates, even when you control for health status at baseline.
But only about half of Americans actually get that much exercise,
as you can see here
, with younger people doing better than older people, and men getting a bit more exercise than women.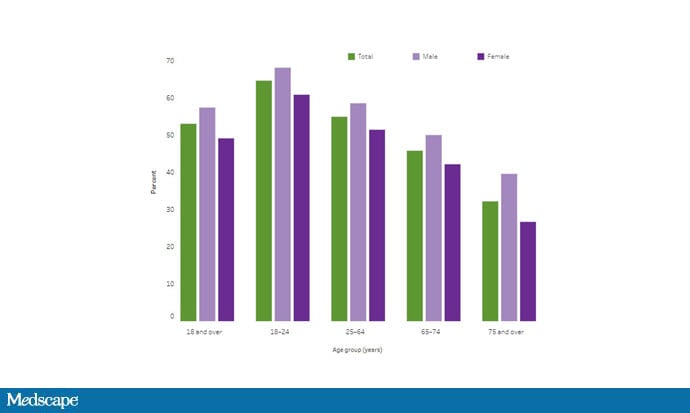 How do you get more people to exercise? Maybe you need to make it easier.
Part of the reason that a lot of people miss the target is that 150 minutes just seems daunting. The physical activity guidelines suggest that these 150 minutes be "spread throughout the week." But not all of us have 30 minutes a day, Monday through Friday, to take a brisk walk on a treadmill or a jog around the block.
Could it be good enough to hit the weekly target all at once?
The agreed-upon scientific term for this behavior — doing all your weekly exercise in one or two big sessions — is the "weekend warrior" pattern. And in this week's JAMA Internal Medicine, a large study asks whether weekend warriors are as protected from death as people who spread their exercise more evenly.
The study leverages more than 350,000 responses to the US National Health Interview Survey, which is representative of the population at large. The researchers, led by Yafeng Wang, merged that survey data with the National Death Index, which captures the date and cause of death for all deaths in the United States.
What do weekend warriors look like?
The image that comes to my mind is something like this. This is a bunch of people from my lab doing a charity mud run last week. It was awesome. https://www.medscape.com/viewarticle/976498?src=WNL_trdalrt_pos1_220708&uac=201569ER&impID=4408933